Topless woman arrested for allegedly smashing 'very unique' Jesus Christ statue at North Dakota cathedral
Blaze
| January 27, 2023
A topless woman is accused of smashing a statue of Jesus Christ at a cathedral in North Dakota. Church officials say the damage to the Jesus Christ statue could be very costly to repair.
Around 6:30 p.m. on Jan. 23, a woman allegedly walked into St. Mary's Cathedral in downtown Fargo, North Dakota. Police were called about a topless woman who allegedly committed vandalism inside the church. The woman was shirtless, braless, and shoeless, according to court documents obtained by Valley News Live.
Fargo Police Department officers arrived at St. Mary's Cathedral and reportedly spotted the topless woman fleeing the place of worship. Police officers tracked down the woman and detained her.
Reverend Riley Durkin provided security camera video to police. The security camera footage allegedly revealed that the topless woman knocked over a potted plant in the cathedral and ripped a Jesus Christ statue off the wall. The suspect allegedly smashed the Jesus statue on the floor and damaged it.
At the time of her arrest, police officers said Reynolds was unable to answer basic questions. Investigators noted that Reynolds appeared to be under the influence of narcotics.
Reynolds was arrested and taken to Cass County Jail.
According to jail records, Reynolds was charged with criminal mischief, driving under the influence, and providing false information to police officers.
Valley News Live
reported
, "A Cass County warrant was also put in place because Reynolds allegedly become assaultive toward Essentia Health Emergency Room staff."
Monseigneur Joseph Goering was unsure of how much it would cost to repair the Jesus statue, but he found a similar statue for the price of $11,500.
Paul Braun, the director of communications for the Diocese of Fargo, said the statue is "very unique" and old. Braun said it would likely be "difficult" to replace.
The Catholic News Agency
reported
, "The statue, called 'Christ in Death,' portrays Jesus' corpse laying on a burial shroud with a crown of thorns laid alongside his lower legs."
The Jesus Christ statue was vandalized two years ago when someone painted it black.
Braun added, "In all these incidents, we hope that the people who are part of that and do these things get the help they need, and we pray for them."
Braun said St. Mary's Cathedral has a policy of welcoming visitors, "We don't want this to be a closed cathedral, we want it to be open to all people at all times. We just hope that people show the reverence and respect that they should for a house of God."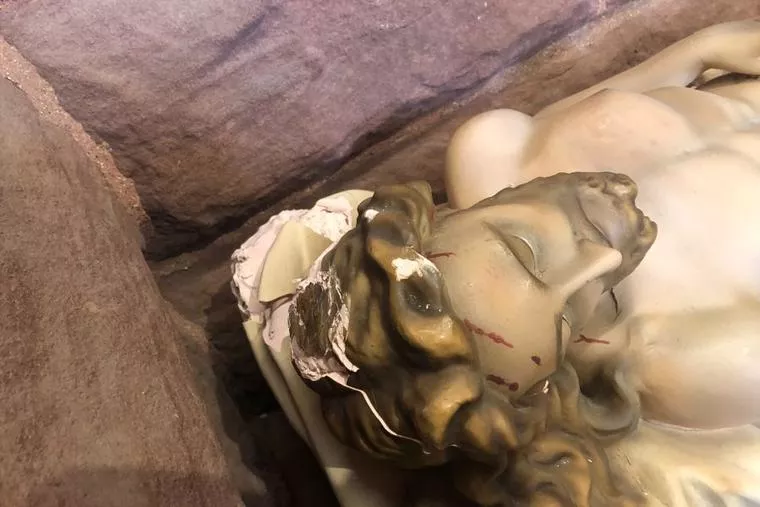 "So let us be confident, let us not be unprepared, let us not be outflanked, let us be wise, vigilant,
fighting against those who are trying to tear the faith out of our souls and morality out of our hearts,
so that we may remain Catholics, remain united to the Blessed Virgin Mary,
remain united to the Roman Catholic Church, remain faithful children of the Church."- Abp. Lefebvre