THE WAY OF DIVINE LOVE
by
Sr. Josefa Menendez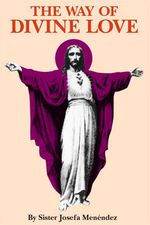 Copyright © 1950 by Sands, London, UK.
NIHIL OBSTAT:
Patricius Morris, S.T.D., L.S.S.
Censor Deputatus
IMPRIMATUR:
E. Morrogh Bernard, Vic. Gen.
Westmonasterii, die 5a Maii, 1953
Sister Josefa Menendez was Coadjutrix Sister of the Society of the Sacred Heart of Jesus.
In obedience to the decrees of Pope Urban VIII and other sovereign Pontiffs, the writer declares that the graces and other supernatural facts related in this volume as witnessing to the sanctity of Servants of God, other than those canonized or beatified by the Church, rest on human authority alone; and in regard thereto, as in all things else, the writer submits herself without reserve to the infallible judgment of the Apostolic See which alone has power and authority to pronounce as to whom rightly belong the character and title of Saint or Blessed.
Facsimile, reproduced with the Holy Father's consent, of the letter by which Cardinal Pacelli blessed the first edition of "UN APPEL A L'AMOUR"
Letter from the Cardinal Protector
H.E. CARDINAL E. PACELLI
(Now H.H. Pope Pius XII happily reigning)
April 1938.
VERY REVEREND MOTHER,
I have no doubt whatever that the publication of these pages, filled as they are with the great love which His grace inspired in His very humble servant Maria Josefa Menéndez, will be agreeable to His Sacred Heart.
May they efficaciously contribute to develop in many souls a confidence ever more complete and loving in the infinite mercy of this Divine Heart towards poor sinners such as we all are.
These are the good wishes which, with my blessing, I send you and all the Society of the Sacred Heart.
E. CARD. PACELLI
"So let us be confident, let us not be unprepared, let us not be outflanked, let us be wise, vigilant,
fighting against those who are trying to tear the faith out of our souls and morality out of our hearts,
so that we may remain Catholics, remain united to the Blessed Virgin Mary,
remain united to the Roman Catholic Church, remain faithful children of the Church."- Abp. Lefebvre