STOP THE PRESSES — Sanjay Gupta finally asks Fauci about Israeli study showing 'Natural Immunity' is 13X times greater than Vaccine…
Citizen Free Press
| September 11, 2021
'Why should anyone get Vaccinated if they have immunity from a prior Covid infection?'
Fauci — 'I don't have a really firm answer for you on that'
Vaccinated were 27 times more likely to get symptomatic infection than those with natural immunity
SCIENCE
The
natural immune protection that develops after a SARS-CoV-2 infection offers considerably more of a shield against the Delta variant
of the pandemic coronavirus than two doses of the Pfizer-BioNTech vaccine, according to a large Israeli study that some scientists wish came with a "Don't try this at home" label.
The newly released data show people who once had a SARS-CoV-2 infection were much less likely than never-infected, vaccinated people to get Delta, develop symptoms from it, or become hospitalized.
The study demonstrates the power of the human immune system, but infectious disease experts emphasized that this vaccine and others for COVID-19 nonetheless remain highly protective against severe disease and death. And they caution that intentional infection among unvaccinated people would be extremely risky. "What we don't want people to say is: 'All right, I should go out and get infected, I should have an infection party,'" says Michel Nussenzweig, an immunologist at Rockefeller University who researches the immune response to SARS-CoV-2 and was not involved in the study. "Because somebody could die."
Put another way,
vaccinated individuals were 27 times more likely to get a symptomatic COVID infection than those with natural immunity from COVID.
Vaccination after acquiring natural immunity is actually counter-productive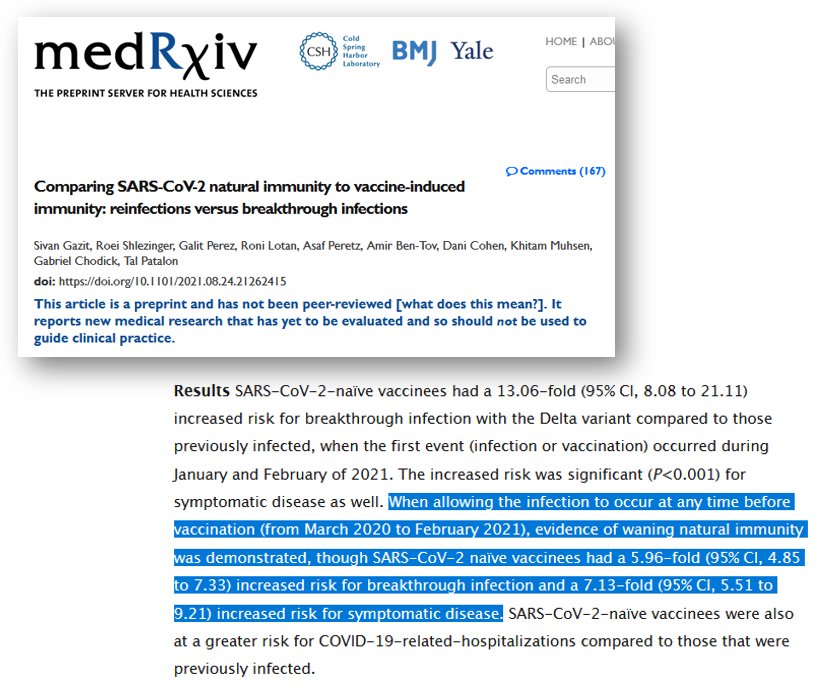 "So let us be confident, let us not be unprepared, let us not be outflanked, let us be wise, vigilant,
fighting against those who are trying to tear the faith out of our souls and morality out of our hearts,
so that we may remain Catholics, remain united to the Blessed Virgin Mary,
remain united to the Roman Catholic Church, remain faithful children of the Church."- Abp. Lefebvre