420 church attacks in 4 years, but most Americans unaware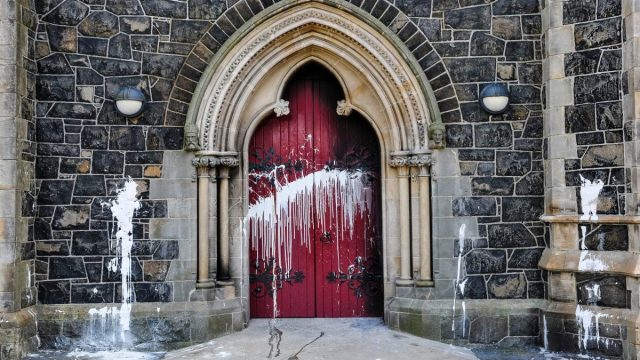 Aleteia
[adapted] | 12/22/22
Reports find that while attacks on churches and pro-life institutions surge, only 37% of the US is aware of the crisis.
A new report from the
Family Research Council (FRC)
has documented some 420 instances of attacks on churches in the United States between 2018 and 2022. While the crisis of violence against both Catholic and Christian churches is disheartening, so too is a new report from the Becket Fund for Religious Liberty, which recently found that only 37% of Americans have heard about the crisis at all.
The FRC has been tracking attacks on churches within the US since January 2018 and their records continue until September 2022. In that time-frame, the organization has noted an overwhelming amount of attacks on churches, in the form of vandalism, arson, bomb threats, and more. It should be noted that the 420 recorded attacks were only on churches, but the figure rises to nearly 500 when taking pro-life pregnancy centers into consideration.
The report stated that "Americans seem increasingly comfortable lashing out at church buildings," and suggests that Christians' pro-life beliefs are being marginalized. Furthermore, they consider the abundance of attacks to be a symptom of "a collapse in societal reverence."
According to CBN
, the Department of Homeland Security's National Terrorism Advisement System has warned that the Christmas season, as well as the upcoming anniversary of January 6, could present threat actors with more opportunities for violence. The DHS has warned that potential targets include faith-based institutions, LGBT communities, and minority groups.
While the FRC is drawing attention to the growing plight of church attacks within the US, the Becket Fund for Religious Freedom is highlighting the scant levels of awareness of them. Becket recently released a survey which found that only 37% of Americans have even heard about the crisis. Becket points to low levels of media coverage on the topic, as well as a lack of decisive action and prosecution from the Justice Department.
While the lack of awareness of these attacks on churches across the nation is troubling, Becket did note that the vast majority of respondents were opposed to such actions.
According to the Daily Signal
, 94% of those surveyed said they were opposed to violence against churches or places of worship. Furthermore, 92% said they were opposed to violence against pro-life pregnancy centers and 93% said they were against protesters harassing worshipers outside their parish.
It would seem that the US public is firmly against the violence committed against churches and faith-based institutions.
The Daily Signal noted that the Justice Department has not responded to multiple inquiries into the department's intentions to prosecute the perpetrators of the attacks on US churches. However, they have charged 26 pro-life individuals with FACE act violations in 2022.
"So let us be confident, let us not be unprepared, let us not be outflanked, let us be wise, vigilant,
fighting against those who are trying to tear the faith out of our souls and morality out of our hearts,
so that we may remain Catholics, remain united to the Blessed Virgin Mary,
remain united to the Roman Catholic Church, remain faithful children of the Church."- Abp. Lefebvre